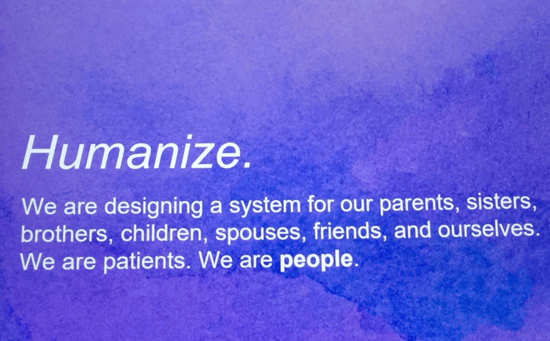 The Cleveland Clinic's Patient Experience: Empathy + Innovation Summit took their hometown by storm, with over 1,200 patient experience, clinical, and technology leaders descending upon the convention center.
Much of the hubbub centered around recurring themes like those in the decidedly apropos conference name: empathy, innovation, human-centered design, and how they intertwine in the delivery of care. From a first-timer's perspective, my outline below may serve as a resource for those of you who weren't able to attend.

Insights from the Empathy + Innovation Summit:

1. The cure for change paralysis is empathy, applied science, and daily commitment by us all
We hear more and more often about design thinking as a framework and state of mind to be urgently adopted in healthcare. At the Summit, attendees received several helpful crash courses in how adoption looks and works when it's successful. Patrick Kneeland, MD, Medical Director for Patient and Provider Experience at University of Colorado Hospital and Clinics, for example, staked at the beginning of his session that human-centered design seeks to reframe the true target: is it HCAHPS here, or something like, 'If 100% of nurses, physicians, and staff were proud every day to work on this unit, what would it look like?'
Attendees learned that interdisciplinary experience design can drive effective strategies for improvement and engage healthcare providers around creative reconnection to their professional purpose. Interestingly, a key takeaway here was that this type of design is predicated on human insights that are often not visible through traditional surveying approaches - more on that below. While human-centered design comes off as resource-intensive on the front end, Kneeland asserts that they're more likely to promote whole-team engagement and interdisciplinary, self-driven collaboration around shared goals (as compared to traditional, top-down improvement efforts).
This session was lively, to say the least. If you missed the PE Summit this year, he'll be co-presenting a webinar on Thursday, June 1st on what types of feedback from patients is effective in impacting human-centered design efforts with NarrativeDx's own Senem Guney, PhD, CPXP.
Behind the scenes and out of sight from patients, Naser Chowdhury and James Demopoulos of Lehigh Valley Health Network implemented process improvement models to successfully operationalize similar efforts to transform patient experience at LVHN, walking attendees through the mechanics and tactics via a series of matrices and workflow tools.

2. The High Reliability Organization (HRO) is back in vogue
While the concept of HROs has been around for over 20 years now, I noticed time and time again throughout Summit sessions and workshops that health care organizations are placing higher priority on becoming HROs. The Joint Commission's EVP & CMO Ana Pujols McKee, MD called upon attendees to lead their organizations in implementing data-driven robust process improvement with commitment to achieving Zero Harm. This concept is predicated on deep-seated cultural ideals within an organization that commits itself at every level to the goal of Zero Harm. Naturally, questions posed by attendees were mostly pushback about how realistically Zero Harm can be achieved in healthcare. Attendees in that keynote seemed at first unconvinced about Zero Harm objectives as necessary to build HROs in healthcare, but ultimately left a little lighter on their feet with empowerment to start that long, long journey.
Press Ganey's Craig Clapper unpacked what it means to team in healthcare, and how teaming happens within HROs. Intriguing to me was his distinction between "how data" (people causes) and "why data" (systems causes), and their role in measuring error. At NarrativeDx, we live to deliver the "why data" to healthcare, where per Clapper, 73% of those systems errors are culture-related, and are therefore preventable. The good news: 'learning' is simply 'doing,' with 'feedback,' whereby organizations are empowered to improve safety, engagement, and experience for all involved in their existing daily flow. As a matter of fact, an oft-repeated theme at the Summit was that creating an HRO is simply impossible without empathy.

3. If it's 'not my problem,' it is
Accountability for results outside of traditional care team roles came up throughout the Summit. Samantha Vining of the Albany Medical Center took attendees through her nursing team's journey from delivering abysmal patient experience to dramatically happier patients. Her "Aha!" moment occurred upon realizing that patients' negative feedback about food, noise, and cleanliness was in fact her problem. Albany's team of nurses began to own what they had previously considered anything but their responsibility. They completely redesigned their rounding process, which resulted in some wild improvements in feedback and scores and helped them achieve a level of performance they've maintained to this day.
I observed a wholesale acceptance of this responsibility by clinical leaders at the Summit.

4. We have a long road ahead to drag healthcare into the present & future…
At NarrativeDx, we live in qualitative patient feedback data, all day, every day, so I was struck by how little of that type of experience data was discussed as mission-critical to patient improvement strategies and initiatives. True, Stefan Turnau of Cleveland Clinic Abu Dhabi confirmed from experience that scores will reveal the 'what,' but that the 'why,' and therein how to improve, is in patients' comments. Abbey Nguyen of Genesis HealthCare set the scene for capturing and utilizing this type of data effectively via adoption of mobile rounding technologies by nurse leaders.
That said, no attendees I chatted with are systematically analyzing verbatims. Tragically, those verbatims are (at best) manually cobbled together, the worst of them are often addressed months later, or these data simply collect dust, never to be read or acted upon.
Most attendees I met are surely becoming masters of mining and reporting on survey scores, and yet feel powerless to do anything about what patients are saying in their own words. Nurse Communication is suffering, but what do hospital leaders tell their nurses so they improve? The answer, the Summit made clear, lays in patients' own words, and technologies that serve providers must rapidly improve functionality to unlock patient narratives to shift healthcare towards a more human experience.

5. ...but we've come a long way in treating patients, family, physicians & staff more like humans
While I could sense at times that attendees felt beleaguered by the enormity of the [understated] task laid before them, I also observed a permeating pride of ownership over successes to date, knowing resolve to continue and build on them, and the confidence borne from the Summit to execute. I heard and saw heart-wrenching stories and presentations of the powers of human compassion and empathy, and how failures by providers at attempting mutual understanding wreaked havoc on patient experience and even confidence in the quality of their care. We were beseeched to stop problem-solving, treating people as diseases or experience as process, and we heard the message.
As Dr. Adrienne Boissy reminded us all in her opening remarks, the person who falls and gets up is different from the person who never fell. Embracing iteration and failure as learning, adopting design thinking at every opportunity, turning to peers and other industries for what's possible in the human experience and high performance, and above all, and understanding that there is no 'us' and 'them' - there are only humans - will transform experience for everyone in healthcare. The inspirations and motivations ignited at this Summit will without question move us all forward as patient experience leaders and professionals, and ultimately, as humans, who share this experience with patients, family, and colleagues alike.
Susan Stuehrk is the Director of Sales at NarrativeDx. Follow Susan on Twitter.