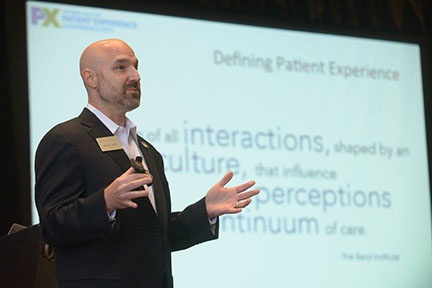 In case you haven't had a chance to read it lately, the

Frontiers of Health Services Management Spring 2017 publication

includes some great feature pieces on the current state and future goals of patient experience.
In this particular issue (Vol. 33, Issue 3), Beryl Institute President, Jason Wolf, PhD, puts forth an important call to action for healthcare leaders.

Read on for a roundup of key insights into Wolf's recent

Frontiers of Health Services Management

piece. For more highlights and details about the insightful cases presented and points made in this particular article, stay tuned for more blog posts coming soon from yours truly!
Now, onto the nitty-gritty. In this article, Wolf challenges leaders to change how they address patient experience.
The urgency in his message is clear: It's time to change the dialogue around patient experience.

We need to scale up patient experience from tactical efforts to a strategic framework for realizing the whole spectrum of outcomes that healthcare organizations aim to achieve.
Wolf underlines the importance of establishing a shared definition, such as the definition that the Beryl Institute has provided for patient experience:

The sum of all interactions, shaped by an organization's culture, that influence patient perceptions across the continuum of care.
The four core concepts of 1) interactions; 2) culture; 3) a cross-continuum view; and 4) perceptions have become the cornerstones for the framework of organizational action around patient experience and have been shaping its evolving discourse.
Grounded in these core concepts, patient experience becomes the driver for the

clinical, financial, loyalty and reputation

outcomes across of the continuum of care.
Wolf posits: "The ability to positively affect these four central outcomes is the ultimate result of taking the systemic approach to addressing experience. It is the powerful opportunity that healthcare leaders have before them to align and streamline efforts. It is a commitment more and more leaders are making every day: to take a strategic and expansive, versus a tactical and reductive, approach to the issue."
He illustrates how several institutions are already taking this strategic approach through the Beryl Institute's eight guiding principles: 1) Accountable leadership; 2) Strong culture; 3) Formal definition of experience; 4) Process for continuous patient and family engagement; 5) Engagement of all voices; 6) Beyond clinical experience; 7) Alignment across the continuum and 8) Focus on both healing and well-being.
The Beryl Institute has developed these principles out of the dialogue they've successfully catalyzed within the patient experience community over the last several years. In this recent article, Wolf shows us how these principles work together to provide the necessary framework for shifting the institutional commitment to patient experience from tactical efforts to a strategic objective.
This shift requires reframing the current thinking in the industry and puts patient experience where it's always belonged: at the heart of healthcare.
It's indeed time for healthcare leaders to approach patient experience as the driving force behind their strategic objective to provide high-quality care through financially viable organizations with the best reputation in their communities. Based on our work at NarrativeDx to help providers hear the voice of their patients, we can tell that forward-thinking leaders are ready to put patient experience at the heart of healthcare as well.
Senem Guney, PhD, is the Founder and Chief Experience Officer at NarrativeDx.
Photo credit: Fashion Seal Healthcare