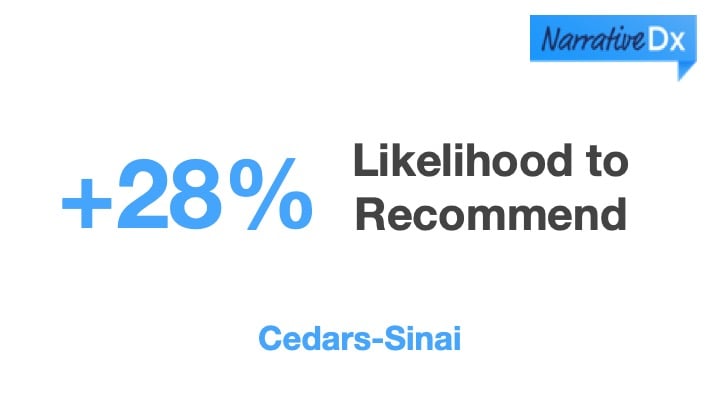 In this case study, we highlight the successful patient experience (PX) initiatives undertaken by Alan Dubovsky, Chief Patient Experience Officer at Cedars-Sinai. Dubovsky and his team leveraged NarrativeDx insights to focus improvement initiatives across the enterprise and instituted new practices that ranged from launching PX dashboards (displaying trends from qualitative PX data) to designing pilot projects for specific units and clinics. The NarrativeDx platform analyzed hundreds of thousands of comments by Cedars-Sinai patients and identified actionable insights, such as:
Key demographics for opportunities for improved experiences
Key drivers of experiences for different demographic groups of patients
Key drivers of excellent experiences in high-revenue service lines
A deep understanding of the entire patient population across multiple sources of feedback, creating a complete 360-degree view of patient feedback
Read more to find out how Cedars-Sinai experienced a 28% increase in Likelihood to Recommend scores.
###
NarrativeDx uses AI to identify actionable insights from patient and provider feedback that improves patient satisfaction scores, increases operational efficiency and decreases employee turnover. NarrativeDx helps healthcare leaders go beyond survey scores by analyzing comments from satisfaction surveys, grievances, online reviews and employee engagement surveys to help hospitals provide excellent experiences that drive significant improvement in financial performance. More information is available at http://www.narrativedx.com.