One of the largest annual industry events in patient experience, the Beryl Institute Patient Experience Conference 2018 (PX2018), is scheduled to take place next week.

Aside from the anticipation for all of the great sessions we will attend at PX2018, some of us regulars are looking forward to participating in a particular pre-conference gathering this year in Chicago: the second meeting of the Patient Experience Policy Forum (PXPF).
The inaugural meeting of the PXPF in Washington, D.C. last September was a very exciting event, especially from my vantage point as a PXPF member "looking in" at provider settings from the outside with the intent to change things up for the better in PX metrics and measurement. It was wonderful to participate in the celebratory first meeting with the industry's leading Chief Patient Experience Officers (CXOs). We left D.C. in September with work group assignments and commitments to continue building policy agendas within our work groups.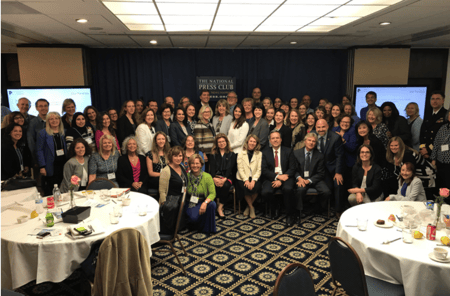 Inaugural meeting for the Patient Experience Policy Forum
This coming Sunday in Chicago (the day before PX2018 kicks off), the PXPF members will reconvene and update the larger organization on our work-group activities over the last several months. Personally, I have a very specific commitment to improving the methods through which providers hear their patients' voices. Before I headed for our second meeting, I asked two founding members of the PXPF what drove them to bring this forum together, their thoughts on the work we have been doing so far, and their expectations of our second meeting. Here is what I learned:
About two years ago, Dr. Michael Bennick* was with a group of long-time friends and experts from leading institutions around the country. He proposed to this group that there should be a collective platform for them to speak to one another and elevate their role as dedicated change agents within their organizations to directly impact policy making at the federal level. Out of these initial conversations, group members defined specific areas of advocacy around bringing patients and providers together, breaking down barriers to access, articulating the value case of positioning patient experience as the connective thread that transverses quality and safety in healthcare, and coming up with creative ways to measure and report on patient experience.
Dale Shaller** used the term "affinity group" to describe how this small group of patient experience experts got together to start a conversation out of not feeling as connected as they needed to be. This initial conversation was about metrics and measurement in patient experience. While everyone in this group and beyond agreed that patient experience metrics and measurement would be centered around CAHPS for some time, this affinity group wanted to explore the question, "What other sorts of patient-centered measures should be developed?"
These early conversations quickly highlighted the significance of patient narratives and patient-reported outcome measures. In April of 2017, a larger group of experts (hosted by Rick Evans at New York Presbyterian) extended the forum's mission of advocacy beyond metrics and measurement. This next round of conversations evolved to mirror what is going on internally within healthcare organizations to represent the voices of patients and families along with healthcare professionals. A few months later, the six specific areas of advocacy around patient-provider relationships, access, value case, as well as measurement were formulated by this larger group and presented at the formal inaugural meeting in D.C.
I asked Dr. Bennick and Shaller individually about their expectations of the upcoming PXPF meeting this weekend. They both shared in their own words that they were looking forward to re-focusing the forum's short-term agenda and to bringing clarity to the collective voice to be heard at the federal level.
According to Dr. Bennick, that clarity will come from shifting the larger discourse in the industry from "What's the matter with you [patients, families and providers]?" to "What matters to you?" He firmly believes that we need to pick one, two, and maybe three projects now to influence that shift.
Shaller is excited to be working with CXOs to step outside of the research world of developing programs and to get more involved in formulating policies that define the framework for those programs. He is also looking forward to coming out of this week's meeting with a sharper focus for the collective voice of the forum.
I am usually not for reciting famous quotes, but going into the second meeting of PXPF, I find it hard to ignore Margaret Mead's words: "Never doubt that a small group of thoughtful, committed citizens can change the world; indeed, it's the only thing that ever has."
With that spirit in mind, I look forward to the patient experience events in Chicago starting this Sunday.
*Michael C. Bennick, MD, MA, AGAF, FACP, CPXP is one of the founding members and currently serves on the Board of PXPF. Dr. Bennick is the Medical Director of the Patient Experience and Chairman of the Patient Experience Council for Yale-New Haven Health System. He is an Associate Clinical Professor, Department of Medicine at Yale University School of Medicine and a Fellow of Trumbull College at Yale University. The patient has been the focus of Dr. Bennick's attention for more than a quarter of a century. As a graduating resident, he was recognized with the Terry Guth Award for Excellence and Humanism in Medicine and has remained committed to training students, residents, fellows and colleagues to better appreciate the power of a patient's narrative and the importance of patient and family centered care.
**Dale Shaller, MPA is one of the founding members and currently serves on the Board of PXPF. Shaller is Principal of Shaller Consulting Group, a health policy analysis and management consulting practice based in Stillwater, Minnesota. He has devoted over three decades to the design, implementation, and evaluation of healthcare quality measurement and improvement programs, with a special focus on listening to the voice of the patient and promoting methods for engaging consumers in managing their health and health care.
Read the original recap of last year's inaugural PXPF meeting.