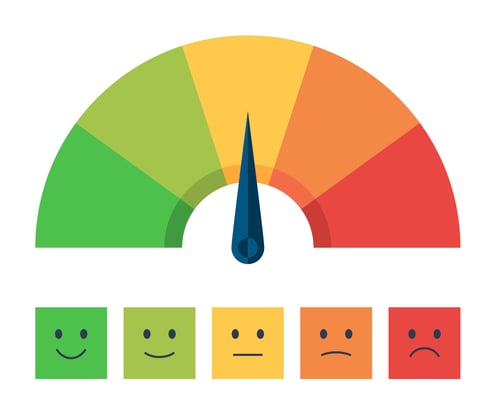 There is ongoing talk about patient reported outcome measures (PROMs), and word on the street is that they're the next thing to be figured out in measuring care quality.
This past January (2017), Modern Healthcare featured an article on PROMs as "The Next Frontier in Quality Care Measurement," and in a November 2016 article in NEJM Catalyst, Dr. Neil Wagle described PROMs as "the missing link in defining a good outcome" in care delivery.
Currently, the most sophisticated tool for monitoring PROMs is a survey from PROMIS® (Patient Reported Outcome Measures Information Management System), which is a set of questions that capture patients' responses on their quality of life and ability to function.
PROMIS® has developed self-report measures for adults and pediatric measures for specific functions, symptoms, behaviors, and feelings; and these measures are applicable to both the general population and those with chronic conditions.
Examples of self-report measures for adults on mobility include:
Are you able to walk at a normal speed?

Are you able to go up and down stairs at a normal pace?

Are you able to go for a walk of at least 15 minutes?

Are you able to climb up five steps?
Patients answer these questions on a scale of 1-5, where 1 stands for "unable to do," and 5 represents the ability to do an activity "without any difficulty."
This particular feature article in Modern Healthcare discusses the excitement and challenges around incorporating the patient's perception of their own health before and after treatment to maximize the quality and to assess the value of the care received.
In the article, Dr. Janis Orlowski, Chief Healthcare Officer at the Association of American Medical Colleges, brings up a great point:
For some patients with congestive heart failure, shortness of breath will never go away even if they receive excellent care. If a patient continued to experience shortness of breath after a successful heart surgery that prolonged her life, how would she respond to questions designed to measure whether her treatment made her life better?
In the same article, Helen Burstin, Chief Scientific Officer for the National Quality Forum, comments on the real challenges that come with working with data from the patient's perceptions of their health in clinical practice. Everyone recognizes the difficulty of using data to evaluate clinical practice based on patients' feelings on how well (or not) things are working.
Data collected through tools such as PROMIS® surveys demonstrate the rigorous effort put forth to include the patient voice in care delivery. However, important questions still remain:
1. Are these surveys really capturing what they are intended to measure?
2. Can the results of these surveys be used to measure performance for reimbursement?
As Modern Healthcare underlines, reimbursement is "the real catalyst for quality improvement."
These discussions are rather similar to the early days of measuring patient experience when Centers for Medicare and Medicaid Services (CMS) began to require hospitals to collect and submit Hospital Consumer Assessment of Healthcare Providers and Systems (HCAHPS) survey data. Back in 2013, major changes started to happen at hospitals when CMS began tying their reimbursements to performance on HCAHPS surveys.
Now in 2017, as reimbursement cuts have reached as high as 2% of annual CMS payments (adding up to approximately $2 billion across the industry), providers have come to see the importance of learning from patients' own words, and not rely solely on survey data in their efforts to measure and improve patient experience.
I suggest that we move faster to incorporate narrative data in our efforts to define and use PROMs in clinical practice. If the ultimate goal is to include patients in the design, delivery and evaluation of their care, no other type of data aside from narrative data will help providers most accurately hear the voice of their patients.
If feelings can be measured, especially in healthcare, our best bet will be measuring them in words.
Senem Guney, PhD, is the Founder and Chief Experience Officer at NarrativeDx.