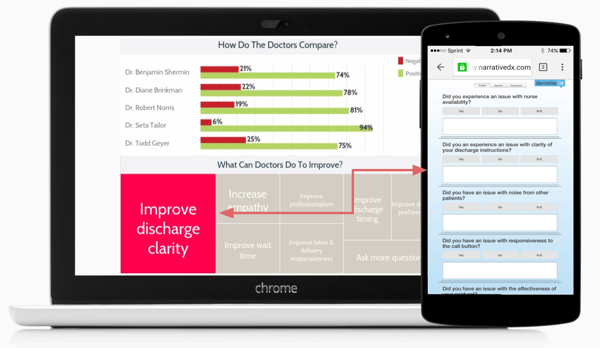 NarrativeDx is expanding its patient experience network through a new partnership with HealthStream, Inc., a leading provider of workforce, patient experience and provider solutions for the healthcare industry.
NarrativeDx and HealthStream share similar values in empowering healthcare providers to deliver the best possible care experience for patients and their families, as well as maximizing patient loyalty and referrals.
"HealthStream is uniquely positioned to help organizations achieve patient-centered care," said Kyle Robertson, Founder and CEO of NarrativeDx. "Together, NarrativeDx and HealthStream will help providers improve patient experience by bringing cutting-edge artificial intelligence and comment analysis into hospitals and clinics all across the country. We help them hear the voice of their patients."
This partnership will deliver targeted, evidence-based data analytics that identify patient experience improvement opportunities and expedite resolution. NarrativeDx is poised to complement HealthStream's patient experience solution for clients with a proven track record in using artificial intelligence and machine learning technology to transform hospitals' quality outcomes and providing visibility into key trends driving the patient experience.
NarrativeDx Founder and Chief Experience Officer, Senem Guney, PhD, looks forward to this working relationship. "NarrativeDx works with hospital leaders and care providers understand and improve their institution's patient experience, drive patient referrals, increase hospital revenue, and boost hospital reputations," said Guney. "We are thrilled to take data analytics in patient experience to new heights in partnership with HealthStream and their platform; the most widely adopted platform for workforce development in healthcare, which is used by over 4.5 million healthcare professionals."
HealthStream is a dedicated leader in solving big problems in healthcare, such as demographic changes, governmental mandates, and the need for higher care quality. They help organizations strengthen the revenue cycle, improve care transitions, increase retention, reduce risk, plan for leadership succession, be more compliant, and understand their opportunities for improvement.
About NarrativeDx
NarrativeDx, based in Austin, TX, is the market leader in transforming hospitals' quality and outcomes by extracting data trends and gaining visibility into the patient experience. Our cloud-based, HIPAA-compliant artificial intelligence platform for patient experience helps hospital leaders and care providers understand and improve their institution's patient experience, drive patient referrals, increase hospital revenue, and boost hospital reputations - our clients have seen $50M in increased referrals and 80% improvements in HCAHPS score improvements. The technology behind our platform uses Natural Language Processing and Machine Learning to collect, analyze, and visualizes unstructured patient feedback from internal and external sources (CAHPS Surveys, grievance letters, social review sites, etc.). Our beautiful, intuitive dashboards that automatically highlight key areas for improvement (staff, doctors, units, facilities, etc.) and provide specific recommendations to improve patient experience. For additional information and a demonstration of how our technology helps our clients transform their patient experience, please visit www.narrativedx.com or call 512-900-7720.
About HealthStream, Inc.
HealthStream (NASDAQ: HSTM) is dedicated to improving patient outcomes through the development of healthcare organizations' greatest asset: their people. Our unified suite of solutions is contracted by, collectively, approximately 4.5 million healthcare employees in the U.S. for workforce development, training & learning management, talent management, performance assessment, and managing simulation-based education programs. Our research solutions provide valuable insight to healthcare providers to meet HCAHPS requirements, improve the patient experience, engage their workforce, and enhance physician alignment. Our provider solutions offer healthcare providers innovative tools to support healthcare organizations in appropriately credentialing and privileging their workforce. Based in Nashville, Tennessee, HealthStream has additional offices in Laurel, Maryland; Brentwood, Tennessee; Pensacola, Florida; Jericho, New York; Boulder; Colorado; and San Diego, California. For more information, visit www.healthstream.com or call 800-933-9293.