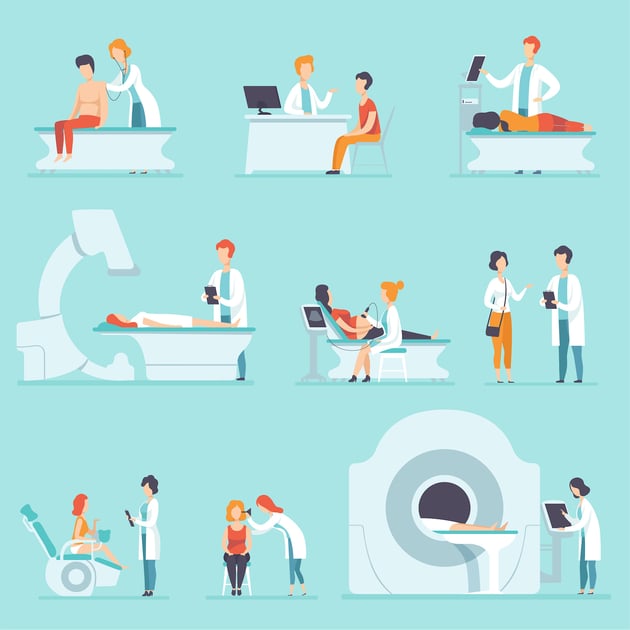 Engaging Physicians in Patient Experience
Physicians are key to providing excellent patient experience. It's been difficult, however, to engage physicians and get their buy-in for patient experience by using survey scores. I recently had the opportunity to talk with
Dennis Lamb
, Chief Experience Officer of
Texas Tech Physicians
about his efforts and successes in working with physicians for better patient experience. Here is how Lamb described the major challenges he has faced and how he has overcome these challenges to excite and engage physicians as leaders of patient experience.
What It Takes for Physicians to be Engaged Leaders of Patient Experience
The mistake in the early days of introducing Texas Tech's physicians to patient experience was pushing too hard on quantitative data. Physicians are scientists and do not respect survey results that represent only 20% of their patients. "The difference between 85% and 93% in top-box scores is not very meaningful to physicians," Lamb says. For this reason, percentile ranks can be misleading to evaluate physician performance in patient experience.
"You don't know what it means to be in this white coat," physicians would tell Lamb. That's when he realized his office could not be at odds with physicians. He started listening to physicians, establishing good relationships, and using experience improvement to help physicians connect with the patient, rather than bypassing the patient and the physician by focusing on the scores.
Historically, experience improvement efforts at Texas Tech were compartmentalized. Lamb's team worked with physicians on programs such as physician communication training to show that experience is bigger than scores. The impact of experience on patient outcomes through fewer ED visits and re-admissions became clear to physicians. Lamb also brought a system approach across departments, because "experience touches everything."
"Physicians hold the key to better patient experience, and scores should not be used as a 'got you' against physicians," according to Lamb. In 2019, Lamb's team started to move away from scores and focused on comments as patient experience data.
Leveraging Comments as Data to Drive Success in Patient Experience
Comments have proven to be a much better kind of data than scores to reflect the patient's unbiased voice. "Physicians see the 'dots colored in' from survey scores as instruments of evil and get irritated by the data." Comments resonate much better with physicians.
Lamb was introduced to the AI-analysis of verbatim patient feedback by NarrativeDx at a conference where he was with a department chair physician from Texas Tech. This senior leader's message was clear: "If you bring this (the NarrativeDx AI platform) to Texas Tech, I will listen to everything you say." Now when a physician asks "why are we doing this?" and Lamb says "because it came out of the NarrativeDx analysis of comment data," there is no more discussion.
Learning What You Did Not Know Before
Having worked at Texas Tech for 20 years, Lamb did not expect many 'a-ha moments' from comment data at first, but he was pleasantly surprised. At Texas Tech, the department of orthopedics, ENT and the surgery department are on the same floor. The crowdedness on this floor, especially on trauma days, was visible. Even the department heads, however, did not anticipate the negative impact of this setup on the surgery patients' experience. Based on NarrativeDx insights, Lamb's team instituted a "maître-d-type service," where orthopedic surgery patients are greeted right away when they come out of the elevator to the floor and are ushered to sit down, instead of walking through the crowded lobby for check-in. Online and at home check-in services, especially for patients of all three departments, have also been improved.
Validating the Need for Change
Patient experience leaders know that what happens first and what happens last in the patient's clinic visit or hospital stay are very important. At Texas Tech, when a primary care physician told a patient to come back in three months, the patient would be told at the check-out to call back in two months for the follow-up appointment, because the schedules would not be ready at that time. When NarrativeDx insights revealed this as the number-one dissatisfier in patient experience, the department chair realized what had been postponed as a painful change had to be done. Physicians do not think comment data carry the biases of survey data, so they are much more receptive to changes based on insights from comment data. Now Texas Tech primary care physicians turn in their schedules six months out and patients can book their follow-up appointments conveniently.
"Providers see comments as data that truly reflect the voice of the patient," Lamb says. Monthly reports from comment data, customized for providers as well as department leaders, have also helped with internal transparency about experience at Texas Tech. Physicians can now implement change much more effectively and with less friction. "Since we started using NarrativeDx and acting on NarrativeDx insights, scores have improved. We've implemented more changes in the last year than we'd been able to in the previous ten years. It's truly been a game changer for us."