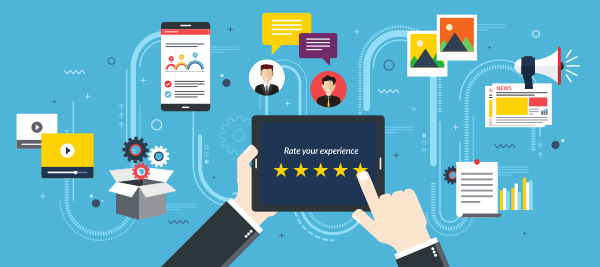 Alan Dubovsky is the Chief Patient Experience Officer at Cedars-Sinai Medical Center and a member of the NarrativeDx Patient Experience Advisory Council.
In a recent webinar hosted by NarrativeDx, Dubovsky and I discussed the current landscape of patient feedback and how this landscape is redefining the work of patient experience leaders to understand and respond to patients' needs and expectations for continuous improvement.
Below are some highlights from our conversation on why verbatim patient feedback matters and why Cedars-Sinai as an industry leader partnered with NarrativeDx to learn from and act on verbatim patient feedback.
GUNEY: How do you work with patient feedback in your role as the first CXO of Cedars-Sinai?
DUBOVSKY: CAHPS surveys allowed our industry to start from the same platform to get patient feedback, but we all know that patient experience is not just about the numbers. Cedars-Sinai had been performing very well in patient experience surveys over the past several years. Our performance had plateaued, however, in many of the CAHPS composite measures in the 80th and 90th percentiles. We wanted to know how to exceed patients' expectations. We were already collecting a lot of different types of feedback, which were not connected to each other. This was one of the many reasons why the CXO position was created about two years ago, and I joined Cedars-Sinai within six months of the creation of this position as its first CXO.
As one of our first efforts, we streamlined the collection of patient feedback in two important ways: We shortened all of our surveys and we switched to real-time, mostly electronic surveys. Of 180,000 surveys we administer yearly, almost all are now delivered to patients within 24-48 hours of the patient's visit or stay. Then we started getting mountains of data. The verbatim feedback part of this data is impossible to process manually. That's why we wanted to partner with NarrativeDx.
GUNEY: How does the NarrativeDx data analytics platform help you leverage verbatim patient feedback?
DUBOVSKY: The point of getting verbatim feedback is to let patients communicate about their experiences through their own voice. In fact, the reason why we were able to reduce the number of survey questions is because patients write quite a lot, and mostly positively, when they get the opportunity to give verbatim feedback. When a patient gives you a giant chunk of text as verbatim feedback, though, you can't lump all that under a catch-all category like "doctor communication." You need to be able to drill down into what the patient is actually saying. That's what NarrativeDx allows us to do over large volumes of data across multiple data sources.
NarrativeDx analyzes each phrase in a patient's comment. This allows us to see what exactly our patients are talking about when they talk about their communication with doctors. With NarrativeDx, we have in-depth insights into all positive and negative trends. For example, we know that the majority of our patients' positive comments about doctor communication are specifically about our doctors doing a good job in explaining to the patient the information about their diagnosis. This allows us to recognize our staff for the great work they do based on feedback.
GUNEY: Can you talk about one of the first things we did when we started the implementation of NarrativeDx at Cedars-Sinai?
DUBOVSKY: The very first thing we did was to identify the different data sources. We worked with our data team and found sources of verbatim patient feedback that went to different audiences in our organization. All of a sudden, our list of 2-3 different sources went up to 17 data sources. We also made sure that the NarrativeDx analysis, which brought all these 17 data sources together, mapped onto how people in our organization are used to seeing data, which took about about 2-3 weeks. Then the NarrativeDx customer experience (CX) team came on site for onboarding the NarrativeDx platform for all the users at Cedars-Sinai. Since all members of the NarrativeDx CX team are Certified Patient Experience Professionals (CPXP), they are a great resource for not only demoing and walking the users through the platform but also for helping identify opportunities to prioritize in PX improvement efforts. Beginning to end, the full onboarding took about 3 months, which is a short time that is very well invested for an enterprise-wide rollout of technology.
GUNEY: Could you give an example of the opportunities you identified in the first few months of the rollout?
DUBOVSKY: One of my favorite examples is parking. We would consistently get poor feedback on parking, and generally assumed it to be related to the high cost patients have to incur. To help defray this cost, we gave validations to patients at many of our locations, but for some reason that still wasn't helping the experience. With insights from NarrativeDx, we were able to see the confusion our patients had when they thought they would have free parking with validation, and they actually had reduced rates for parking. This simple, actionable insight helped us set the right expectation for our patients when they got their parking tickets validated. When we began to explain the reduced rates with parking validation, our patients stopped giving us poor ratings for parking.
GUNEY: Could you describe the impact these types of insights have in your day-to-day operations as a patient experience leader?
DUBOVSKY: I have not encountered one team member at Cedars-Sinai who does not want to do the right thing. Patient experience touches everything we do. Providing excellent care experiences for our patients is our common global goal. Insights from NarrativeDx have helped all of us pay more attention to patient feedback, especially those of us who struggled with relying just on numbers. We have a great Performance Improvement team, whose members collect some of their data for different projects by talking with patients. What used to take them months for collecting and sifting through all the data now takes 2 days with NarrativeDx, and we still get great assessments from our Performance Improvement team.
We can provide service line-specific suggestions for continuous improvement through NarrativeDx reports. With the capability to analyze each comment phrase by phrase, we do not end up sending one mixed-sentiment comment to 10 different departments, whereby they would feel disenfranchised and say "This comment about us is actually positive, and you are telling us to make improvements about these other things."
I also see great opportunities with NarrativeDx for improving employee experience and engagement. Patient experience and employee engagement go hand-in-hand, and no one has been able to bring the two together for actionable insights. NarrativeDx has started working with us at that intersection, and I am very excited about it.

If you weren't able to join us for the live webinar, we invite you to watch the replay video. The replay video (and all NarrativeDx webinar replay videos) are eligible for PXE continuing education credits.